Tips and tricks to turn an unbearable bed into a cosy haven
Every problem is made easier after a good night's sleep. But after a night spent tossing and turning on an uncomfortable mattress? The day's over before it's even begun.
Whether you're trying to make a firm mattress softer or a soft mattress firmer — or if you just need a few plush accoutrements to cosy up your bed, we've got the tips and tricks you need.
So, are you done staring at your phone in the dark, searching, "how can I make my mattress more comfortable?" Then let's get you back to a solid eight hours of unbroken sleep.
Starting with the obvious: You need a new mattress
Before we look at how to make an uncomfortable mattress more comfortable, we need to make sure you're sleeping on the right one. If you can't remember the last time you slept through, you're almost certainly sleeping on the wrong type of mattress.
Diagnosing the problem: Why is your mattress uncomfortable?
Do any of the following problems sound familiar to you?
You wake up in the morning with sore muscles and joints

You wake up in the middle of the night, sunk into a you-shaped valley in the mattress

You're constantly overheating

You're always reaching for the antihistamines
If these problems sound familiar to you, your mattress may be the culprit. Poor sleep can be attributed to a mattress firmness that does not support you in your preferred sleeping position. Low-quality or allergenic materials can also make your mattress uncomfortable.
Solution: You need a quality mattress that suits your sleeping habits.
How to determine what type of mattress is most comfortable for you
The first thing you need to do is consider your preferred sleeping position. Side sleepers, back sleepers and stomach sleepers each have unique considerations. The right mattress will support your spinal alignment and provide pressure relief for your joints.
Then, you'll have to research mattress types to find the one that suits your sleeping position.
If you're looking for a medium firm mattress loved by Australians, you've come to the right place. Sleep Republic's hybrid mattress design features exceptional pocket spring support, cooling, gel-infused memory foam and natural latex swathed in luxurious cashmere. So it's no wonder that we've been named the highest-rated pocket spring mattress in the country by CHOICE and won Best Overall Mattress in a Box for two years running from BedBuyer.
Not ready to replace your mattress? Let's get to the tips on how to make your mattress more comfortable!
Setting your foundations: Are you using the right bed frame?
Even an old mattress will feel like a brand new bed with the right base. So let's look at a few different kinds of bed frames and the mattresses they best suit.
Types of bed frames
1. Box spring
We'd argue that these old-fashioned bases aren't ideal for any mattress. 
As the name suggests, they're a solid box filled with springs. While they're not suitable for foam mattresses, box spring frames do add bounce to innerspring mattresses and improve cool airflow. On the downside, they offer little support and a lot of motion transfer.
2. Slat
Extremely common and reliable, the slat base is constructed with flexible slats running horizontally across the bed. A much firmer surface than a box spring, slats offer excellent support for all mattresses and improve airflow, keeping you cool at night.
If that sounds good to you, take a look at our Sleep Republic Pro Base to learn more about what a slatted base can offer.
3. Platform
Platform frames create a raised, stable, and solid foundation for placing your mattresses. Their stability counteracts the sinking feeling of an overly soft memory foam mattress.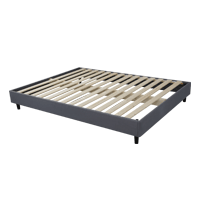 If you've already got a suitable foundation, a quick inspection is all you need. Check for tears, sagging, broken slats and so on. Repair or replace what you need to. With your bed frame in order, let's turn our attention to the mattress.
How to make a firm mattress more comfortable
Sleep in it for the entire trial period
A brand new mattress won't always live up to your expectations. That's not a flaw in the mattress — it simply needs time to break in. Giving a firm mattress enough time to settle and decompress will help it feel softer.
Most mattress companies worth their salt will offer you a substantial trial period specifically to give you time to let your mattress settle. A 100 night trial with free returns is a pretty good benchmark.
Memory foam mattress? Turn up the heat
For those of you wondering how to make a foam mattress more comfortable, your air conditioner has the answer.
A memory foam mattress is incredibly temperature sensitive; throughout the night, your memory foam responds to your body heat, making your firm mattress softer. But, if you want to enjoy a softer mattress right from the get, turn the heat up for a while before bed. You'll enjoy a better night's sleep in a snug, warm room.
Try a cushioning mattress topper
There's no easier way to make a rough bed feel softer and more welcoming than a mattress topper. You'll be surprised just how much one extra layer can change how a bed feels.
Whatever your needs or budget, there's a mattress topper that's right for you. An egg crate foam or memory foam mattress topper will quickly make a mattress feel softer. A cosy feather or wool mattress topper? Pure luxury. Or go with latex if you're also looking for added breathability to keep your mattress cool while remaining hygienic.
How to make a soft foam mattress more comfortable
Go with us on this — got any plywood?
If you need an affordable, easy to way make an old, sagging mattress firm again, get your hands on a cheap sheet of plywood. It'll add just a bit more support when placed between your mattress and its bed frame.
Honestly, it's not our favourite method to improve how a soft mattress feels, but a good night's rest is subjective, and plywood will still do the trick.
Spin it and flip it
If your mattress is past its trial and getting a little too soft, try the reliable old trick of a 180º rotation.
Spin your mattress head to toe, and you might find a slightly firmer mattress beneath you. It's good to keep this habit up, even once you're comfortable; whether you've got a hybrid, innerspring or memory foam mattress, the rotation will give each section time to relieve pressure. One or twice a year should do the trick.
Try a firm mattress topper
Aren't they miracles? Throw on a topper made of memory foam or latex for a firmer feel.
Still struggling with how to make an uncomfortable mattress comfortable?
Maybe the problem isn't about making your mattress softer or firmer. Perhaps it's just an uncomfortable mattress that needs a little care to live up to its fullest potential. These products ought to give you the boost you need.
Mattress protectors
No, a mattress protector is not the same as a topper. While a topper affects the feel of a mattress, a protector does precisely what the name suggests.
A high-quality mattress protector offers several benefits:
Breathability improves airflow and keeps you and your mattress cool

Hypoallergenic qualities make it ideal for asthmatics

It absorbs spills, stains and marks and can be easily machine-washed
Bedsheets
Much like a protector, durable bed sheets extend the life of your mattress. Choose high-quality materials that are cool, soft and gentle on the skin.
Our recommendation would be to invest in 100% bamboo bed sheets. They're highly durable, machine-washable, moisture-wicking with all-natural materials – there's no downside! Plus, they get softer after each wash.
Pillows
A small and perhaps obvious suggestion, but we staunchly believe that sleeping on the right pillow can make up for an uncomfortable bed.
Choosing a pillow is just like choosing a mattress — you need to know your preferred sleeping positions to get the right firmness level and pillow height, then consider different materials and their benefits.
Memory foam pillows are a great option. Not too soft and not too firm, they contour to the head and give you much more pressure relief for the neck and shoulders than plush or firm pillows do.
Body pillow
Side sleepers, this one's for you! Body pillows are an excellent way to keep your spine and joints aligned and alleviate pressure.
Body pillows are typically 5 feet long, and they're essentially just big bolsters that you can cuddle all night. But they prevent your shoulders and hips from slipping and collapsing as you sleep, so you don't wake up with the aches.
One way to get the same effect would be to sleep with one pillow between your knees and another hugged against your chest. Still, investing in a firm body pillow is a great way to make a bed more comfortable.
Well, now you know how to make a bad mattress more comfortable. Small changes can work wonders, but there's simply no substitute for sleeping on the right mattress.
Why not try the Sleep Republic hybrid mattress? Designed for the majority of Australian sleepers, it might just give you the sleep you've been dreaming about.